一、用途
  One, application
  
  1、 对钢桶表面进行涂装的专用设备;
  1. Special equipment for the external coating of the steel drums.

  2、设备自动完成钢桶表面的喷涂涂装过程,快捷可靠。
  2. Spray coating process for the external of steel drums automatically, which is fast and reliable.

  
  二、性能特点
  Two, characteristics
  1、它同时完成桶身、底盖、桶底各部位全方位喷涂,能够完成三色沿旋转方向着色;不流挂,涂膜一致;
  1. It completes the omnibearing spraying of the drum body, top and bottom simultaneously and can dying the three color along the rotation direction without flowing and having consistant film.
  2、安装有3套喷涂工位,1套补边工位可适应多品种钢桶喷涂,无需更换工装;
  2. Equipped with 3 sets of paint spraying station and one set of edge color repairing station, which can be adapted to various kinds of steel drums spraying without chaning the tool.
  3、安装有"文丘里"式水幕除尘装置及其引风装置,有效阻挡漆雾飞溅;
  3. Equipped with "Venturi" water curtain dust removal device and a wind guiding device, which effectively prevent the splashing of the paint mist.
  4、采用上传动,动力装置置于喷房顶部,通过长轴传输动力到喷涂工位;
  4. Adopted the upper transmission, and the power device is placed at the top of the spraying room and transmit the power to the spraying station through the long axis.
  5、通过触摸屏,对动力装置、喷涂漆量实施智能控制,并自动完成工艺调整;
  5. Implement intelligent control of the power device, the paint spraying amount and complete process adjustment automaticallty through the touch screen.
  6、更换喷涂颜色可快速调节实现;
  6. Replacement of the colour spraying can be adjusted quickly.
  7、主传输为封闭式链条输送,带有桶定位机构,,运转可靠,清理便捷;
  7. The main transmission is a closed chain conveyor with a drum positioning mechanism, which is reliable to run and convenient to clean.
  8、设备采用高性能PLC及触摸屏,实现设备参数数字调整,操作简单方便快捷。
  8. The equipment adopts high property PLC and touch screen, which realizes the digital adjustment of the parameter of the equipments and make the operation simple and convenient.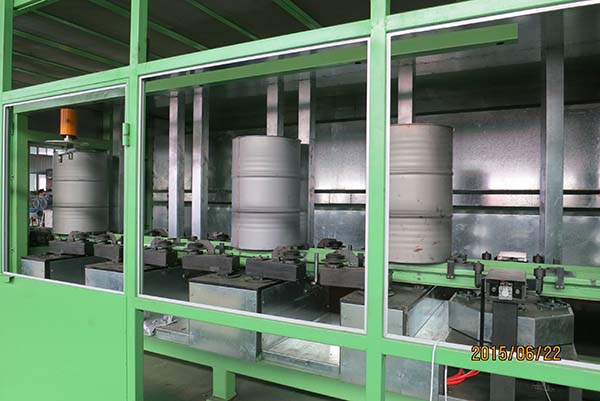 三、主要技术参数
   Three, main technical parameters
参数设置
Parameter setting

单位
unit

参数值
Parameter value

备注
Remarks

速度
Speed

个/分钟
Nos per minute

12

720个/小时
720 per hour

电压
Voltage

V

380

三相五线制
Three phase five wire system

总功率
Total Power
KW
22.5
用气量
Gas Consumption
L/min
2500

适应桶高
Drum Height suitable to

mm

880~920

适应桶径
Drum Diameter suitable to
mm
560、571

机械外形尺寸
Machine overall dimension

mm(L*W*H)

9500* 5400 * 3500